Acadesine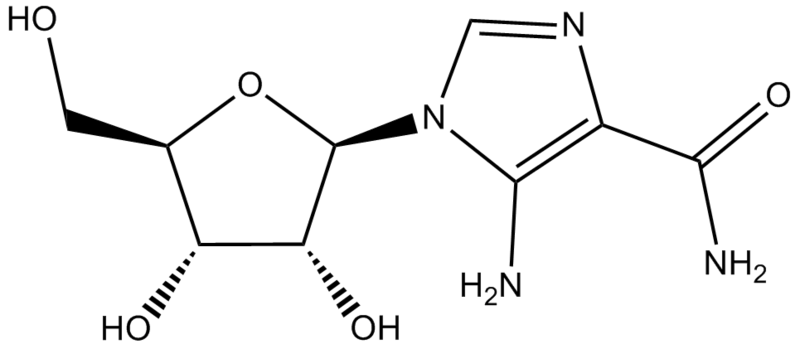 Acadesine (INN) (5-aminoimidazole-4-carboxamide-1-beta-4-ribofuranoside, AICA-riboside) is an AMP-activated protein kinase activator which is used for the treatment of acute lymphoblastic leukemia and may have applications in treating other disorders such as diabetes.
AICA ribonucleotide or AICAR (aminoimidazole carboxamide ribonucleotide) is an intermediate in the generation of inosine monophosphate, which acts as an AMP-activated protein kinase agonist. It stimulates glucose uptake and increases the activity of p38 mitogen-activated protein kinases α and β in skeletal muscle tissue, as well as suppressing apoptosis by reducing production of reactive oxygen compounds inside the cell.
In 2008, researchers at the Salk Institute discovered that AICAR given to experimental mice significantly improves their performance in endurance-type exercise, apparently by converting fast-twitch muscle fibers to the more energy-efficient, fat-burning, slow-twitch type. They also looked at the administration of GW 501516 (also called GW1516) in combination with AICAR. Given to mice that did not exercise, this combination activated 40% of the genes that were turned on when mice were given GW1516 and made to exercise. This suggests it may be possible to obtain some of the benefits of exercising without actually exercising. Because of the enhanced endurance effects, this could potentially be used by athletes to enhance their performance.
Genetika Institution developed new technology of acadesine production.
For more information please contatc us here